Your question about SiemensHiPath 3350 V9.0
Product description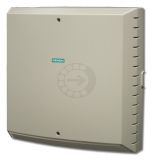 Image similar
Order-No.: 4646
Manufacturer: Siemens
Condition: Refurbished

Technical Data
The HiPath 3350 is a telephone system suitable for wall mounting in the color warmgray. As special offer we provide you the possibility to customize the color for an extra charge.
In its maximal expansion stage, the HiPath 3350 offers up to 96 user connections. Based on your configuration with the various boards available in our store, the HiPath 3350 supports a maximum of 36 analog users, up to 24 UP0/E-Connections, up to 24 additional users over telephone adapters, and a maximum of 16 Cordless users.
In place of the line-switched user connections, the HiPath 3350 can also connect up to 96 IP users.
The Wall-Mount-System-Base-Box-Kit (Coldfire) consists of:
1x Software on a 128 MB Flash-Memory card 
1x Powersupply PSU-C  
1x CBCC 
1x EVM (onboard)
Connections:
8x Digital (UPO/E)
2x ISDN (So)
4x Analog (a/b)
Supported terminals
All Siemens OpenStage Telephones
All Siemens OptiPoint Telephones
Siemens DECT-Base station
All analogue Telephones
All ISDN-Telephones