Storage Service (Warehousing)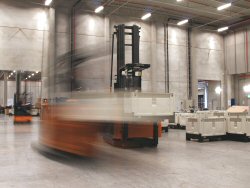 We offer you a comprehensive depot service with fully electronic and networked warehouse stock acquisition. Over our customer interface, C-DCS (Customer Depot Control System), you have full control over your stored wares.
Just-In-Time disspatchment ensures fast reaction times and a high availability of your stored wares.
Our depot buildings have been designed from the start for the storage of sensitive electronic equipment. The storage areas are dust free and are cleaned on a weekly basis. The conscious waiving of power conveyor belts and electromagnetic scanners, protects magnetic storage media such as hard drives and floppy disks from data loss during warehousing.
Overview
Depot capacity: 3000 m³ (105,944 ft³)
Posiblity for the use of external Warehouses with round 8000 m³ (282,517 ft³)
Warehouse Type: High rack pallet warehouse and block storage
Electronic, networked warehouse stock acquisition
Centrally located in the geographical center of Germany
Optimal connections and conditions for every destination in Germany
Flat-rate logistics fees irrespective of the destination
Convenient bordering constructable zone allows for the extension of warehouse capacities
Railway siding allows warhousing directly from freight traffic on the rail
Have questions? We are happy to help!