Your question about Beyertonemusiphone THE NEXT LEVEL musiw@b Advanced
Product description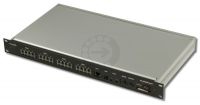 Image similar
Order-No.: 3748
Manufacturer: Beyertone
Color: Black
Condition: Refurbished
Part number.: 3001

The devices of the NEXT LEVEL product series, with the integrated integrated musiw@b technology, represent the platform of a new generation of powerful multi-function systems for all aspects of the recording of announcements and music. .
Furthermore, they have an integrated high-quality answering machine as well as extensive automatic switching functions on PBXs. NEXT LEVEL musiphone thus support the professional communicative performance of your company against your customers .
Technische Daten
4 analogue channels, expandable to 16 channels via plug-in modules (2 channels each)
2 hours of integrated memory
Internet connection (automatic, time-controlled, independent of location), self-reportable (telephone), self-playable (jack socket), remote WAV file recording trough BEYERTONE studio
Operation via voice-operated menu, Windows PC tool (incl.), Keys for operating mode
Announcement before query / night announcement
Music on hold
TIEL/TMOM
ACD-/ProCenter-announcements (Flexrouting)
Automatic switching
4 Operating modes with date / time control
Pseudo-dialing
Announcement link
Notification for new answering machine messages (optional)
Statistics evaluation of calls, messages and memory allocation
FAX switch function
"noiseless transfer" for ProCenter
Music on hold
USB interface
LAN interface
Real-time clock
19 "housing 1U
TIEL/TMOM connection
Optional CD recording
optional central Mailbox
Ready for operation within 3 seconds after switching on
Lieferumfang
musiphone THE NEXT LEVEL Advanced
Suitable power supply
Depending on availability, we have different installation stages and accessory packages. Ask for details before buying.