Your question about SiemensOptiset E Standard "Dark Blaze"
Product description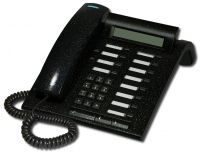 Image similar
Order-No.: 1230
Manufacturer: Siemens
Color: Special Edition
Condition: Refurbished

The Siemens Optiset E Standard model offers hands-free operation and open listening.
12x programmable feature keys
2-line LCD
3 menu keys
Full hands free working
Hicom 100E,150E, 200, 300/E
Hipath 3350, 3550, 3750, 3800, 4000....